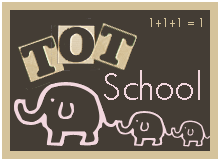 M is 35 months old
I am finding myself wondering a lot lately if M knows I started a blog. He is constantly asking to do "school"! So much so that I'm having a hard time keeping up with him and finding new and interesting things for him to do. Thank goodness for all the other great blogs that link up to Tot School and their great ideas!
Here's what we did this week:
We made a Cheerio bird feeder by stringing Cheerios onto a pipe cleaner and then forming it into a circle.
Then we hung it up in the tree outside M's bedroom window:
It only took a couple of hours and there was a blue jay pecking away at it. It was completely stripped of Cheerios within a few days and we found the bare pipe cleaner on the ground. I'd call it a success, and we'll definitely make one again.
I made a pattern with his blocks and he tried to copy it. He did pretty good, with just a slight mistake (can you see it?):
I created some cutting strips for him using stickers to help guide him. I got this great idea here. He knew exactly what to do and followed the lines almost perfectly. I knew he could cut well, but I didn't expect him to do so well with this. He can cut a straight line no problem, apparently. I'm working on some new ones with wavy lines to give him a new challenge.
He also surprised me with this matching game:
You match up an enlarged detail of the birds to the full version (hope that makes sense). It is more challenging than a simple picture-to-picture match. But he caught on right away and did a great job!
We reviewed things that start with B from our ABC book:
And did a little Baseball Size Sorting from our ABC book too:
He is still loving the flannel board activities so we did one with numbers. It's great for number recognition. I got the patterns and the idea from here.
Then we did Old MacDonald Had a Farm (patterns from here):
I left all the flannel board sets out and found him later playing with it this way:
It made me very happy to see this because I've been making felt sets for him since he was tiny (that's how he learned his shapes, in fact), and it's gratifying to see him finally enjoying them!
Hope you all had a great week of Tot School too!
For more ideas, see the 1+1+1=1 blog!
Have a beautiful day!