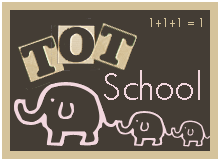 M is 35 months old.
I felt really behind all week, nothing was planned (and I am nothing if not a Planner), and both M and I were a little cranky.  Sigh.  Motherhood isn't always pretty I guess.  Anyway, we did only a few things…
We played with M's foam bath numbers and he matched the number to the correct pile of erasers that I set up:
He did this pretty well, with only a little guidance from me.  We switched it and he put the number of erasers down next to the appropriate foam number (does that make sense??)
One day he wanted to "do school" when I wasn't able to, so he got out the little erasers, a pair of tongs, and a bowl from the kitchen and did this all on his own :
I found a copy of the Moveable Alphabet here, printed it out and put it in our pocket chart (from Target dollar spot – you knew I'd mention it at least once, didn't you?!).  Then M matched up his letters from his See and Spell.  I thought he would have fun putting things in the pocket chart, but he really was not all that interested.  I do think I'll try it again though, it could've just been that we had a bad attitude all week. ;)
M matched paper clips to colored pieces of cardstock.  He did great with getting them on this time, something he's really had a hard time with in the past:
He did some scissor practice using the pages I printed from here:
We did a dolphin puzzle, which was a real struggle… I know he can do this puzzle, he just lost interest halfway through.  I made him finish it, but I'm really not sure why.  Normally if he isn't having fun we just skip something. 
We made a blue, yellow, blue, yellow pattern with his blocks.  I did this with him and kept asking "what comes next?" and he kind of got it eventually, I think.
We finished up with an activity that's always fun and puts both of us in a good mood.  We got out his songbook and we played his instruments and sang several songs.  You can't see his box of instruments in this picture; we have a harmonica, a triangle, a shaker bottle (pictured), jingle bells, tambourine, and the bowl and wooden spoon (pictured) that he uses like a drum. 
I'm hoping to make next week a little more fun and interesting!  I hope you all had wonderful weeks with your tots!!
Have a beautiful day! :)