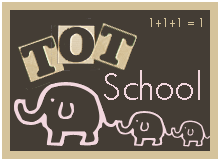 (M is 35 months old)
We've been talking about patterns for a while now and M apparently thinks it's a line up of any kind. He made these "patterans" this week and was so proud of them:
It was so cute, he listed off the patterns to me like this - circle, square, circle, circle, star, square... and on and on until he was at the end. Evidently we need to work on the idea of
repeating
objects in order for it to be a real pattern. And don't you like how we had to hang his lacing beads up on the window tie-back? "For decoration" of course. :)
We did a little toothpick and styrofoam activity, pushing the toothpicks in and then putting beads on. I tried the whole pattern thing with him again, seeing if he could copy my pattern. He did, and then he added his own little touch:
Then some pipe cleaners got in on the action. This activity kept him busy for quite a while:
We did a little squeezing-water-out-of-a-sponge-with-a-garlic-press activity (That's it's official name). I think I got this idea from
The Wonder Years
, but I'm not 100% sure on that.
He did his foam ABC puzzle. Hammering the letters in never gets old.
We did a dinosaur matching game (file folder game found
here
):
And we lined up color cards by shade, lightest to darkest:
He did his name puzzle:
And he worked on this little wipe-off mat we found (dollar spot at Target, I love it!) - We picked a letter then I went through and named all the objects for him and he circled the ones that started with that letter's sound. He did great. And he actually circled things, which I didn't know he could do. Yay for fine moter skills! :)
He spent about an hour playing with play-doh, he was very into it!
He worked outside on his car. He's really into fixing things lately (pretend of course). :)
One day he
had
to have a Superman mask. He doesn't even know who Superman is, but he got a little Superman action figure at a garage sale and I told him a little bit about him. So we went online to see if there was a mask we could print out. No superman, but I found a
cute site
that has a lot of animal masks - all printable for free! He decided to be a frog! :)
That's my boy!
For more Tot School ideas, visit
1+1+1=1
!
Ribbit. Have a beautiful day!