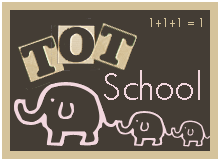 M is 35 months old.
Whew, what a busy week! I'm having a hard time weeding out tot school photos, because I have about 30 of them! Here are the ones showing the most fun…
We played a game of "what's different? / What's the same?" with his toy cars one day. I'd put 3 of them together (2 vans and 1 racecar, or 2 blue cars and 1 red car), and he'd have to figure out which one was different and why the other 2 were the same. The tongs were his idea, not mine. :)
He did his name puzzles with milk jug lids. I finally got around to making ones that say "Mommy" and "Daddy" for him. He just loves these:
Pattern blocks and pattern cards:
He asked to do something with "baby" letters (lowercase), which had me very excited, because he hasn't shown much interest in them, and has been a little confused. Calling them mama letters and baby letters has helped, silly as it seems. So, we grabbed his ABC poster (Dollar Tree), and his See and Spell letters, and matched them up. He did great with this:
Then we lined them up and sang the ABC song a couple of times. He thought it was neat that we could do that, I guess we've never done it before.
Then we got out the See and Spell boards and worked on them for a while.
Here's an ABC uppercase and lowercase matching file folder game we did. We only did the first half of the alphabet and then he was ready to quit. You can find this here.

We did his favorite truck puzzle cards (Dollar Tree again!):
We bought some $1.00 animal flashcards from Target (2 sets) and used them for a matching game. I loved the pictures on these, and went back to buy the insect and American animals ones.
More matching – this time with his toy cars and a color wheel:
It quickly turned into a parking lot. :)
We played with our Target dollar spot marble run:
We matched up ladybug designs on the flannel board:
Outside time – getting treasures out of a giant ice cube:
Blowing lots of bubbles right in Mommy's face:
And playing with his new sand/water toy:
Whew! Hope you had a busy and FUN Tot School week too!!
Have a beautiful day! :)