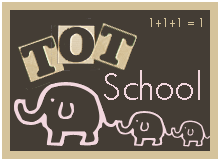 (Matthew is 34 months)



My first Tot School post! I have read Carisa's blog daily for over a year now and it has been incredibly inspiring to me. I've been doing what she calls "tot school" with M for quite a long time, and one of the decision makers about whether or not to start my own blog was the fact that I was just so darn excited to be able to share what we do for our tot school time together.

Warning: my son has taken to wearing just his underwear around the house lately, so please excuse the lack of modesty. :)

We played with blocks a lot, building houses for his little action figures. He has really been into blocks lately, which I love to see.
We did these little wooden puzzles together:

We did our foam number puzzle. He hammers the numbers in while I tell him what they are. He really is not into numbers right now, so I keep trying to get him interested. Usually anything involving a hammer will catch his attention. We got this idea from Carisa, who does it with her tot with a foam ABC puzzle.

We worked with our Melissa and Doug Lacing Bead set. I tried showing him how to make a square, circle, square, circle pattern, but again... he was not all that interested. He did learn the word "cylinder" though!


We worked with our pattern blocks for a while. I have the magnetic kind and we put the pattern cards on a cookie sheet to do them. He stayed with this activity longer this time than he has in the past. He loved doing the helicopter, the robot, and the wagon. And he learned the word "rombus". It's so cute to hear him say words like "rombus" and "cylinder". :)
He stuck some car stickers on the little crate he keeps his matchbox-style cars in. I take the sticky part around the stickers off the page for him - it seems to help him get the stickers off a little more easily. Towards the end both he and I were covered in stickers. :)
We also played a lot of bingo. This is a picture of him playing it yet again with Daddy, giving me a break from all the bingo (we really have been playing it a lot). I printed the set out from this site, and we use buttons for markers. It's great for learning to take turns, counting, and to develop vocabulary.

That's it for this week. For more tot school ideas visit here!
Have a beautiful day! :)