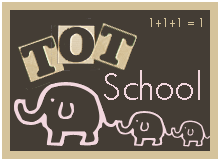 Matthew is 34 months old
*I have to apologize again this week for our lack of modesty. No, M doesn't ALWAYS wear just underwear and a t-shirt. I do make him dress to go out or to the store. But at home inside this is what he wants, and I'm just not prepared to make a big deal out of it. *

Every day this week M has asked to "play school". He is just really into it lately. I know a big part of it is getting to spend one on one time with me... I have a hard time balancing all the things that need to be done in a day and I'm thankful for Tot School because it helps me schedule in time just for M. It's good for both of us!
This week we hunted for items for our nature basket. We have a tiny green apple that fell into our yard from the neighbor's tree, a bunch of oak leaves with tiny acorns in the middle, a rock that he dug up, a little mushroom, and a piece of bark:
We did a lot of drawing with sidewalk chalk. His drawing has really taken off in the last couple of weeks -
it actually looks like what he says it is.
This is so amazing to me. Here he drew a football and a fire engine:
I'm sorry I just can't remember whose blog I saw this on, but it was not my original idea - I made an old potato salad bucket into a piggy for him and he loves feeding it his pretend food. He makes all the appropriate piggy noises too. It's pretty funny to listen to. :)
We got the feltboard out after putting it away a month or two ago and then completely forgetting about it. It's a good thing because it was like having a new toy. We did the "5 Green and Speckled Frogs" song and he really got into making the frogs jump into the pool and then taking them off the board. We did this over and over again.
We sorted some color cards that I printed out and laminated from
here
. Each card has an object on it (ex. purple flower) and I made pockets on a file folder of the different colors. We took turns picking a card and then putting it in the right pocket. I've found making things into a game like this where we take turns, or close our eyes, or something along those lines, helps him become more interested in some activities.
We did some of these ABC puzzle cards that I got from the dollar store. He wasn't into this so much so it didn't last very long. He hasn't gotten the small letters figured out yet, and something about this frustrates him.
We used tongs to put these cute erasers into an ice cube tray.
Then we sorted them into 3 piles. He wanted to use the tongs for this too.
My favorite thing was something I didn't get a picture of. We had a nice rain shower on Tuesday and he wanted to open the window and raise the screen, and we put our hands out and felt the rain and talked about it. He loved this and so did I. :)
Hope you all had a great week too! For more Tot School posts visit
1+1+1=1
.
Have a beautiful day! :)