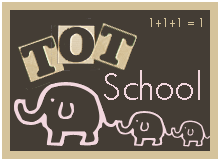 M is 37 Months old
This week we began our autumn theme! I'm very excited about all the great activities and learning tools available with this theme.
We did a little normal school stuff too – that first…
We did our ABC train in the pocket chart again. Right away, when M saw me setting it up, he said, "I don't want to do that, I didn't do so good with it". :( I told him that we were going to do it a different way this time and that he would do great. I sorted the train cars out on the floor by color,
and then told M which letter we needed and which color group it was with. Each color had only 4 to 5 cards, so it was really simple for him to find the one we needed. He did great!
His favorite part was after the train was put together. He grabbed two pencils and we pointed to each letter while we sang the ABC song. I've got to remember to always set him up for success while still challenging him. It went so much better this week and he felt much better about his abilities than he did last week.
I made some dots on colored paper for him and he drew lines to connect them and make simple shapes. The inspiration for this activity was this post.
He did well with this and was excited to draw shapes, but we sure need to work on that tripod grasp a lot! Later in the day he cut his shapes out. :)
We did our weather chart, which has been sorely neglected the past few months:
M practiced his sawing. :) He lined up his blocks and sawed them apart, one by one (making all the appropriate chainsaw noises – you did know that's a chainsaw, right?) :
You can see we aren't getting very far on the road to cleaning one thing up before starting another. Sigh.
For our autumn theme, we did a sort of circle time activity a few days this week. First, we talked about all four seasons, and what changes take place during each one. I found these great seasonal clothing cards at Montessori for Everyone, and we set them up on the pocket chart and talked about them. I plan to use these at some point for sorting too.
I put different colored star stickers on the backs of these so when we sort them M will be able to tell if he sorted them all correctly on his own (blue star for summer, purple for winter, green for spring, orange for fall).
I found some fun seasonal clipart at Kizclub and we sorted them out onto colored paper. Green for spring, blue for summer, orange for fall, and red for winter. M did pretty well with this. He had a little trouble with summer and spring items, but in my opinion some of them were a little confusing.
M hung up fall window clings in his room:
We played our autumn tic tac toe game:
And we read some library books about autumn (see reviews here and here):
We learned this fun seasons song (click on image to go to web page):
And I taught M this little poem…
Two little eyes to look at God,

Two little ears to hear His word,

Two little lips to sing His praise,

Two little feet to walk His ways.

Two little hands to do His will,

and one little heart to love Him still.
I'm not sure who wrote this, it is in one of M's baby books. I'm trying to bring something more about faith/religion into our time together on a more daily basis. We pray at mealtimes and bedtime, read Bible stories, and do our (somewhat sporadic) Sunday School lessons, but I feel he's ready for more than that.
I hope you all had wonderful weeks with your tots! Check here for more tot school ideas.
Have a beautiful day! :)