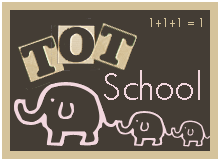 This week we worked on how letters are formed (M constantly wants to draw letters) and the order of the ABCs.  He knows the song, but actually putting letters in order is another matter all together.
We used our pretty glass pebbles and cardstock letters (both from Dollar Tree!) to practice forming letters correctly.  We worked on as many letters as he wanted.  I told him to start at the top, bottom, or wherever, and how to form them as if he were going to actually write them. He really got into this and we did about 6 or 7 letters before he wanted to move on to something else.
I found some upper and lowercase letter stamps at Target and Michael's (I think Michael's had the lowercase) and I've been wracking my brain for a way to use them.  Finally, I made this little name card for M:
You can see the stamps are pretty tiny, but he did a great job and seemed to know exactly what he was supposed to do:
We did an ABC train activity with our pocket chart.  I found the ABC cards here, and the idea for how to use them was from Little Hands, Big Work.  We sang the ABC song a couple of times, then we tried singing it very slowly and stopping at each letter; the idea was for him to find each letter and place it in the pocket chart.  Right away he became a little frustrated.  I think the way we had the cards lying on the floor was a little overwhelming for him. 
It's a shame that this turned out to not be fun for him because he was really, really looking forward to doing something with the train when he saw me cutting it out and laminating it.  I should have put more thought into this and separated them by color so I could give him hints to help find each one. 
We did a couple of letters:
But, in the end, I put them all in the pocket chart and we just had fun singing the song and pointing at each one.
We did that several times. Then later in the day I found him with a pencil pointing to each letter and singing, and that made me feel much better!
We did a color shade activity.  I let him pick the color sets he wanted to do then I put out the darkest and lightest of each one.  We talked about dark, and darker than,  then about light, and lighter than. He was doing great with that, but then I set a medium tone out for each set and asked him which was lightest and which was darkest and he had a little trouble.
We switched to talking about light, medium, and dark and he did better, but then he said "I don't want to do this anymore", so we put it away. :)
We did his transportation same/different cards, and he did fantastic.  He's done these before, but this time I asked him why the different one was different and he was able to give me a clear answer each time.
(Oh, I love those baby hands!)
I also gave him some new cutting pages… he loves his scissors. (Sorry no pics!)
Later in the day I found him doing these little puzzles in his room:
And he's been calling this little teddy bear his "baby" all week.  We've had a lot of friends with new babies lately and I think he's got the baby bug. :)  Here I found him rocking his baby:     
Gosh, I sure do love this little boy! 
Go here for more Tot School ideas!
Have a beautiful day! :)