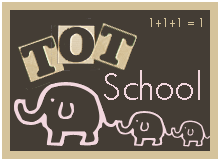 Matthew is 36 months
It was another fun week in Tot School land. :) I know it looks like we do a lot, but I want to stress that we normally spend about
one hour "
doing school" on Tuesday mornings, with only a couple more planned activities thrown in here and there if M asks for them on other days, which he normally does lately. We try to spend time every day on an art project too, but other than that M's time is spent mostly in self-directed play; normally I try to let the art project be very self-directed too. Sometimes his free play time is with me or Daddy (and if it's a definite learning-type activity I try to capture it with some pictures) and very often on his own, or with a friend. Regardless of what it
looks
like we really don't spend
all
our time on school! :)
Ok, now that that is out of the way… here's what we did this week. :)
I showed M the new letter H file I put together for his ABC book. I posted about this
here
and made it available for download. :)
First, He put helicopter and "H" foam stickers on the Hh templates:
He pretty much insisted on putting the stickers
around
the letters instead of
on
them. :) Simple as this was, M absolutely loved doing it.
Then he practiced tracing the letters. He wants to draw his letters so badly, so I included this activity in the file (you can see his tripod grasp is pretty non-existent, or was on this day anyway):
We played a tic tac toe game using
H
ard
H
ats and
H
ammers:
And we went through little pictures of things that begin with H. I've found this is a one of the best activities to help him learn the sound a letter makes. I always include this with our ABC book pages. We say /h/ /h/ /h/ hammer, /h/ /h/ /h/ house, etc, stressing the initial sound as we look at each picture. It's fun and kind of turns into a chant of sorts.
We worked on the
H
eart pattern strips… he is just not getting the concept of
repeating
patterns. Ah well, I need to remain patient and remember at 3 the important thing is lots of exposure to a concept and it will finally *click*. :) Here's the pattern strips
after
I re-did them the right way, ha:
Finally, he colored the shapes for the shape
H
ouse. He is so not into crayons. If I had let him use markers I would've gotten a better response, I think. He colored for a while, like this:
then he wanted me to finish it. I had him tell me which color to use for each part, then did it. He enjoyed being the teacher. :) Here is the shapes house all finished and put together:
After that we did a few more tot school activities – we used our
counting mats
to count with M&Ms. :) We are still only going up to number 4 because he still is working on one to one correspondence and the idea that the last number you say is the number of items.
I created a little measuring activity for him. I got the idea
here
, and altered it slightly. M is really, really into tools lately and of course that includes what he calls his "measurers", which is a tape measure and a square with a ruler on the side. So I made this:
(ignore the close up of my dirty carpet, please)
He loved this and I think it would've gone over even better if I had used something other than ribbon to measure. But, that was all I could think of at the time.
Then we practiced scissor skills by cutting out large shapes drawn on construction paper:
He did so well with this, we saved the shapes to show to Daddy later. I wish I would've taken a picture of them all cut out.
He loves this little paperclip color match game. He just recently became very good at doing this and is enjoying his new found skill.
He wanted to do this again another day but lost interest pretty quickly. So I grabbed the bag of paper clips and gave him a new challenge – paper clip chains:
I'm noticing this kid does not smile much for pictures. Please believe me, though, when I tell you he enjoyed an activity. :)
He practiced spooning the pretty, pretty glass pebbles from a glass dish into an ice cube tray:
We did our fantastic
movement cards
again and got a little exercise in. I am thinking of making this a daily activity.
Another day he was itching to do some hammering, so I gave him a large piece of styrofoam that came in a package we received and a baggie full of golf tees.
This kept him busy on and off for most of the day. The next day he took the golf tees ("nails") out with his pliers – I was impressed he thought of this – I sure hadn't.
then as I was doing laundry he decided to saw it. The boy is all about tools these days. This is what awaited me after the laundry:
It was a mess. But I was not too bent out of shape about it – he had thoroughly enjoyed himself, and the amount of time it kept him occupied was definitely worth the 10 minutes or so of cleaning and vacuuming I had to do.
I've been trying to have a small activity set up for him to do independently around 4:00 pm when Daddy is not yet home but dinner needs to be cooked. This week we tried stenciling with our do-a-dot painters:
I really need to pull together some more activities for this purpose – any ideas? Nothing too complicated to set up and something he can do by himself. You know how it is when that time of day rolls around…
Here's my favorite picture of the week. M's cousin S came over and she is a crafty kind of girl. They crafted all day. She has been dying to make a
sunshine guy
like M made a long time ago. They both made new ones and then posed with them for me:
Aren't they sweet? And the kids are nice too. ;) Hee hee.
For more great tot school ideas, go
here
! Sorry for so much rambling this week! :)
Have a beautiful day! :)